2020 - a special year for Centrale Nantes Alumni
Published on September 29, 2021
–
Updated on October 14, 2021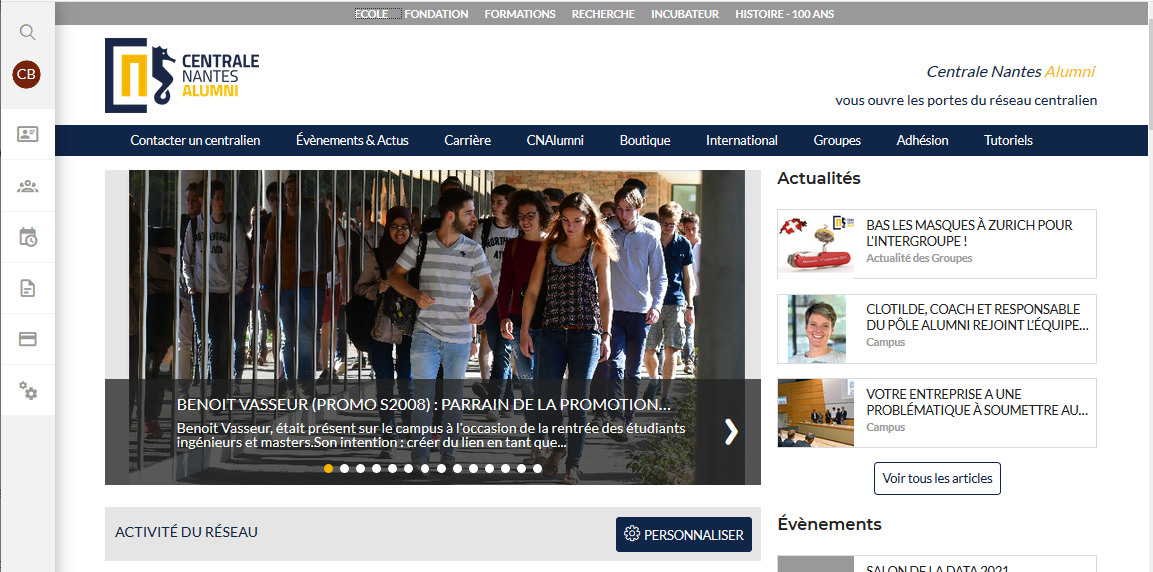 The Nantralien digital network launched in January 2020: more than 5500 accounts activated in the year
Also open to the school staff and teachers, it is a truly dynamic and interactive network where anyone can put forward a project, create/join a group, exchange views on professional topics or favourite subjects. Students, graduates, staff and teachers are invited to activate their account if they have not already done so.
Events have been organised by the Executive Education Department... articles are published in the framework of the P2E call for study projects, to highlight graduates' profiles.... The International Relations Department takes advantage of the experience to create links with graduates abroad.
Watch conference
replays
and read what the experts have to say on
www.centraliens-nantes.org

Deploying the Centrale Nantes Alumni network with all events online
The main objective during lockdown: maintain links
By contributing to remote events with students, notably:
through our Take off operation in January 21 to make up for the exceptional cancellation of the graduation ceremony
with Nantralian events to make up for the absence of in person Welcome events and the Alumni Forum due to public health restrictions linked to COVID-19.

Centralian and Nantralian solidarity during lockdowns

The development of joint Centralian platforms: "CACS Events", Centrale Carrières and a joint directory
Roll-out of the Centrale Career service in conjunction with the 5 Centralian networks (Lille, Lyon, Marseille, Nantes, Paris) and inter-Centralian career workshops (weekly online)

Students involved in the governance of the association, particularly on the Board of Governors
Elections for the Board of Governors
represented an opportunity to increase the presence of students and young graduates within the association's bodies.
Published on September 29, 2021
Updated on October 14, 2021